aNexus FUJIFILM Mini 4300 Series Industrial Inkjet Printbar System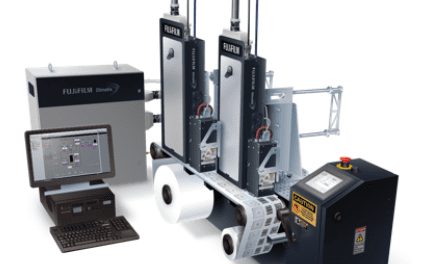 aNexus Mini 4300 Printbar, a high-performance single-pass printing system that is both upgradable and cost-effective. This industrial-grade system is designed to maximize value at minimal cost, making it configurable with up to four individually controlled printbars for your development or production applications. With the capability of 1200 dpi at up to 1800 fpm in a single pass, this system offers high output and more potential profit.
The Mini 4300 Printbar system uses Samba drop-on-demand printheads to deposit billions of drops per second, each directed precisely to the intended location, resulting in high-resolution single-pass imprints at incredible speeds. Each printhead is constructed with 2048 nozzles that deliver a native 1200 DPI resolution, and the ink drop size can be as small as 3 picoliters. The patented RediJet recirculation system ensures the printbars are quickly primed, resulting in faster print times, minimal waste, and improved reliability.
The Mini 4300 Printbar system is compatible with various fluids such as dye/pigment-based fluids, whites, protective/decorative varnishes, and functional fluids. It can print various types of images, including text, graphics, RFID, QR, and barcodes, and the smallest font size it can print is 4pt. The printbars have a single-head width of 40.6mm (1.6in), and the input image file format is TIFF or PDF.
The system includes a control cabinet, PC, monitor, keyboard, and software as standard. The control cabinet has a dimension of 764.7 x 223.4 x 762 mm (30.1 x 8.8 x 30 in.) and a weight of 39 kg (86 lbs.). It operates on universal 110-240 single-phase VAC 50/60 Hz input and has remote and client I/O interfaces. It can support up to four printbars, and it has four independent waveforms. The PC interface can be a graphical user interface or remote application over IP, and the control system is Windows® 10-based, allowing for variable data printing.
The Mini 4300 Printbar system is an excellent investment for businesses that need high-quality printing capabilities at a lower cost. Upgrade your printing capabilities and make more with this mini but mighty printing system.