aNexus IGLU Compressor, helium compressor for GM & pulse tube cryocoolers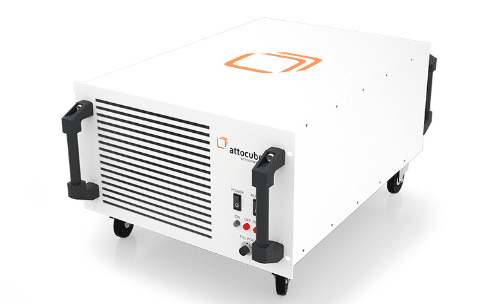 aNexus attocube IGLU compressor is the world's first compressor system which is compact size and hassle free for integration into 19-inch racks cryogenic systems with target temperatures below 4 K, overcoming extensive infrastructure requirements. The compact 19″ rack system is driven by an industrial grade pump with full circle separation between oil and helium that allows real adaptive power to generate lower energy modes.
The low heat generation in aNexus attocube IGLU compressor allows usage in most vented or climatized rooms without the need of additional cooling infrastructure setting new standards in terms of sustainability as it can be plugged into a regular wall socket in any room. In addition, adjustable power and cold head speed via ethernet allows to further lower the energy consumption, increasing the lifetime of the full cryocooler system.
The high efficiency extremely robust separation allows the refrigerant for cryogenic systems to be cleaner and robust. It is also fully mobile applications possible, unaffected by tilting or movements even under operation.